Tag Archives: swoon
WELCOME BACK!! It's time for another Swoony Boy Alert. First, some Joe Fontaine swoon. . .
Can we tell you how much we've missed these posts? And you, of course! *smothers* So what are Swoony Boy Posts? SBA's are random and often incoherent posts in which we, and you, YES YOU, awesome reader, gather around a glass of something pink and sparkly and talk all about our favorite male characters in fiction. They can be old favorites, or boys we're meeting for the first time.
Read More »
When Mandy asked if we wanted to be involved in a new kind of blog tour, an #authorlove kind of blog tour, we were all HECK YES because you know we love to get our fangirl love on. And when she told us the first author would be our girl Myra, we were all OH HELLS TO THE YES. We love Myra like Peeta loves bread. So come on in, read our little love letter, and then tell Myra how simply amazing she is. Because she is, you  know. Supportive and funny and wild and sweet. Just the way we like 'em.

Finally, we're here we're here! Our site is up and we can share books and news! and kid stories! and our writing woes and victories! and pictures that make us swoon!
First up, a giveaway. We've been gathering books for months and are GIVING THEM ALL AWAY! Signed copies of books like: Warm Bodies by Isaac Marion, Lips Touch (Three Times) by Laini Taylor, Nightshade and Wolfsbane by Andrea Cremer, Divergent by Veronica Roth, AND LOTS MORE…
Such as…OH LOOKIE HERE: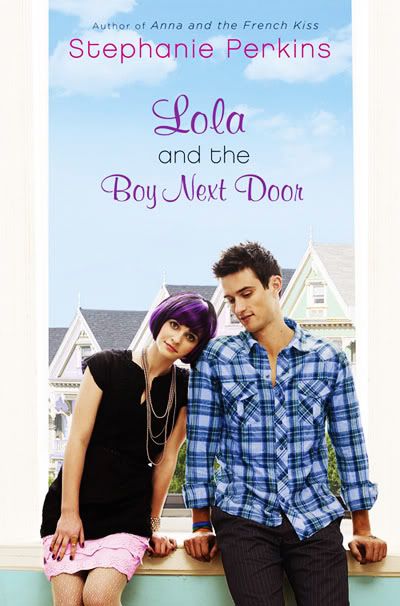 To get this party started all proper  with some epic swoon, we're giving away a signed copy of LOLA AND THE BOY NEXT DOOR by the amazing Stephanie Perkins, and all you have to do is leave a comment here with your favorite swoony, badass, or pretty-prose line from ANNA AND THE FRENCH KISS.
Yes, it's that easy. We will choose a winner at random, so make sure to leave your email address in the comment, okay? OKAY! *clappy hands*
We've both read, and loved, LOLA and it will be hard to part with it, but *DEEP BREATH* that's okay because it will be released on September 29, 2011, and we can pre-order it here.
So leave a comment (with your favorite quote), look around (we're just getting started, so bear with us) and follow our Tumblr and Twitter (Lo & Christina) for picspirations and post updates.
The giveaway closes Saturday, July 30, 2011 at 10PM Pacific. **THIS GIVEAWAY IS NOW CLOSED**
Can't wait to swoon with you guys!

Read More »